Being a writer is relatively cheap. At least the actual writing part is. All you need is a computer, time, and an idea. But if you want to take your writing career to the next level you start to see the money stack up; Writing Conferences, Websites, Copyedits.
And if you are a self-publishing author the money stacks up even more: Book covers, book formatting, marketing, proofreaders, more copy edits.
I was surprised by how much some of these things added up if I wanted to be considered a professional writer. Indulging is good, but you need to make sure your money is being spent on the right thing. Budgeting is key, but so is knowing exactly what to splurge on and where you can cut some costs.
Here are some of the tips and tricks I've discovered that will help you make the most of your Writing Career without breaking the bank.  Because…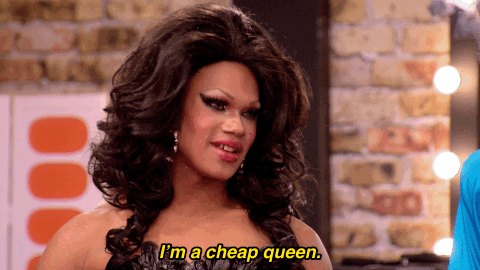 Websites and Marking: 
The first thing everyone says you should start building your brand,! "Get that website up and running!"
Websites are all well and good but blogs aren't for everyone and you don't want to throw money at a website if you don't know if you'll keep up with it. I recommend trying a free service, like WordPress or Blogger to see if a Writer Website works for you. If not, never fear! Twitter, Facebook, Instagram, and Tumblr are all social networking sites where writers can market themselves and interact. And did I mention they are all FREE. I can't stress that word enough. Utilize them. You can post as many times a day as you want, though I think over marketing would annoy your followers instead of making them buy your product.
As you grow a following start to identify areas where you'd like to improve your interaction with them. This is where you can spend a little cash on that website, making it pretty, buying the domain. Or pay twitter/facebook to advertise your book. These would be good investments. You can also pay for Hootsuite to analyze your social media statistics to make the most out of your posts. The important thing is to figure out which social media service works best for you and your money. Don't just throw a few dollars at everything and hope it sticks.
Making Your Manuscript Shine: 
Copy editors and proofreaders usually cost a pretty penny. A recent article I read about the average costs of editors set the price between $1,000-$2,000. Ouch. But you know what's free?
Critique Partners.
Use facebook, twitter, or meetup.com to find critique groups near you. This is the best way to utilize the writing community for feedback that will help your book, plus you get to make friends!
If you search the internet you can also find some editors and proofreaders who might have cheaper rates. The trick is trying to find these cheaper rates and still get quality work.
If you've done the critique group thing and it still doesn't seem to be getting your novel the results you want then a copy editor is a good investment. If you self publish, almost everyone says you NEED it, so make sure you work that into your budget. This will be your biggest expensive but it will be well worth it to avoid reviews that say your novel needed more editing.
I'd also like to point out that twitter and facebook often have contests where agents or editors will raffle off a free query critique or a critique of your first few pages. Look for these and enter them! Again, it is free and a great way to get AMAZING feedback.
Writing Conferences: 
Writing conferences are expensive. Most of us can only afford to do one a year. There isn't much of a way around this except that you can look for more small-scale conferences/retreats nearby. These tend to be cheaper, but you may not get as much bang for your buck.
Bigger conferences offer you marketing, writing advice, and the opportunity to pitch to an agent. If you pick one, make sure it is one that you'll LOVE doing. If there is an author or agent there you are dying to hear from or if the conference has a great reputation. These are all things I would look into.
I've done three now. One small conference, which was fun because it was reasonably priced and allowed me to network with local writers. And two "larger" ones. One was great and well worth the trip, the other… well, at least I was with some fun people. The reason why the later didn't work out was because it didn't represent my genre. There were YA agents but no one looking for fantasy or science fiction- and there were no Adult Romance representatives. I went because my friends were going and there was an author speaking who I really liked. When he dropped out, there wasn't much else to keep my attention. I found myself with open time slots because no workshops applied to me. While the other big conference had me running around like a crazy woman all day (and I loved it!)
Conferences are a great investment, but you gotta pick the right one. Make sure you are getting the most with your money.
My biggest piece of advice is not to throw all your money into publishing right away. Don't pay for a query critique if your manuscript isn't completed. Don't pay for a copy editor on your first draft, odds are it will change drastically over time. And don't pay for a ton of marketing material that isn't earning that money back.
Work on your craft and search for cheaper options. Take those baby steps. Most likely when your manuscript is polished and ready to go to the next level you will be too. That is when you can start investing a little more money to your career goals.
Is there anything I missed? Any questions? Hopefully, you found this article helpful. Share it, like it, or comment.