Welcome back, everyone! I've returned from an exhausting but amazing trip to Japan. For this trip, I made the conscious decision not to bring my laptop. It was painful and I probably won't be doing that again, but it also allowed me to disconnect from my current WIPs and come back with fresh eyes.
But while I was disconnected I still received emails on my phone.   I'm still waiting for that day when I get a little 'Ping' and an email that requests a full manuscript. Unfortunately, all I received was another rejection and news that I did not make the finals for a contest I entered.
I won't lie, it was a bummer.
But it means I can keep moving forward.
It has been three months since I sent my first batch of queries and I've received nothing but rejections. I knew this was coming. I'm not naive enough to think that I'd land an agent on my first try. But it is still disheartening.
On the bright side, the contest judges provided feedback on my first pages and it wasn't all terrible. I got some praise on the story and some docked points on grammar (my biggest weakness as a writer.) All of this helped me to realize that I'm on the right track. My manuscript may not be perfect, there are still some improvements it needs to go under in order to get the responses I want. But hopefully (hopefully) I'm on the right track.
All of this is happening after I started a critique group in our local writing circle. I found a small collection of ladies who have been willing to look at my novel as Critique Partners! They've already pointed out a few things I can do to improve the MS.
Editing is a drudge for me. I always feel like I hit a wall of my own competence when I look at a piece over and over. Slowly my patience and love for a project start to chip away the longer I try editing myself. That's why I need Critique Partners. Having new people read the story really helps keep me motivated to work on it! Their inputs along with the notes from the judges should give me a good starting point to make the edits my MS needs.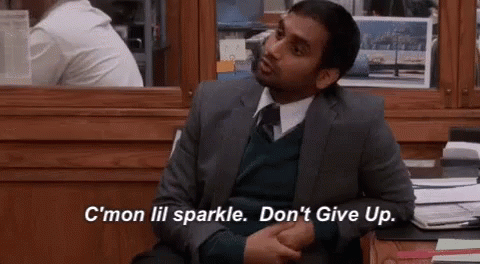 In these moments it is important not to give up. Come up with the next steps for your success and move towards them (all after some treat-yo-self chocolate and wine.) I offer a lot of advice on this blog, but even I have moments where I don't know where to go with my project. We all feel bogged down with rejection after rejection and it is okay to take a day or two to search for a source of motivation.
The important thing though is to not sit on those rejections and give up. You need support and a game plan to plant your butt back in the seat and tackle your MS for the umpteenth time.
I usually listen to one of my favorite podcasts 88 Cups of Tea and take heart that even published authors faced rejections. So I'll leave you with the episode I'm currently listening to today and a quote from it.
"Whenever I got rejected or I felt down about my writing, or I felt like it wasn't going anywhere, I would try and do something productive for it. Which in my case is usually making submissions or editing a new story."

-Rachel Heng, on 88 Cups of Tea

"The nail in my wall would no longer support the weight of the rejection slips impaled upon it. I replaced the nail with a spike and kept on writing."

-Stephen King, On Writing
You're not alone in the writing pit (though it feels like it sometimes!) And that's another important thing to keep in mind. Head over to the twitter hashtags #amquerying and #shareyourrejections to give support and receive it as well.